Making nucleargraduates recruitment more seamless
.
Challenge: nucleargraduates is the sector wide graduate programme for the nuclear industry. Established in 2007 by the Nuclear Decommissioning Agency, the graduate programme currently has 73 graduates on the programme across two years in direct engineering and scientific disciplines. The programme caters for applied engineering roles in heavily regulated parts of the industry with sponsors including the Environment Agency, Office of Nuclear Regulation and Rolls-Royce.
They required a solution that would help deal with high volumes of applications all the way through – from recruitment and employment through to supporting employment in sponsoring organisations after two years.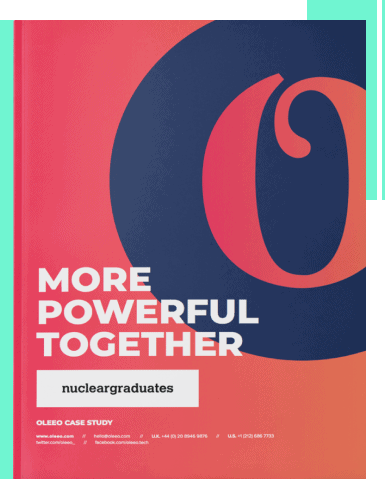 The UK's nuclear industry is facing its biggest challenge in decades. Existing power stations near the end of their working lives are ready to be decommissioned, while a new wave of plants has been given the go ahead. Nuclear is back on the agenda.The factors behind this resurgence are complex, but one thing is clear – the need for suitably skilled graduates from the UK is greater than ever. Engineers, scientists, business minds, talented managers and financial experts will all be essential to the future of this sector. That's why leading businesses and organisations have come together to create a new graduate training programme; nucleargraduates.
What led to the need for a new system?
nucleargraduates wanted a solution that would handle large volumes of applications from interested students and help it manage its entire recruitment process, making it as easy and straightforward as possible, whilst allowing candidates to demonstrate skills and expertise.
This included bespoke application forms & online tests for candidates to provide information on academic qualifications and work experience as well as verbal, numerical and logical reasoning and situational judgement questionnaires.
Successful candidates can then complete a 15 minute online video interview at a time / location convenient to them on any device before being invited to a two day assessment centre with feedback recorded at every stage.
Oleeo deployed its Volume solution to help the small nucleargraduates recruitment team of two to handle thousands of applications for limited graduate places. The system, with technology from Oleeo partners integrated within it, affords the organisation more consistency in the recruitment process and better candidate selection, outweighing the original cost saving
benefits.
Oleeo helps recruiters in high-volume environments – such as retail, hospitality, healthcare, travel and logistics – to manage the entire recruitment process and significantly reduce the time to hire without jeopardising quality. It allows an organisation to post one vacancy instead of 50 for a single post using bulk processing.
The benefits are starting to be felt across the organisation, with reductions in several areas including:
nucleargraduates reduced their administrative costs by 80%
Around 90% of graduates complete the programme and stay working within the UK nuclear industry management
Award winning – consistently voted as one of the UK's best graduate programmes (Guardian UK300 and TheJobCrowd)
Seen an increase in the number of sponsors and graduates
ROI – £78.8m, equivalent to £4 for every £1 spent
Oleeo & Morgan Stanley Campus Recruiting jointly won recognition from HRO Today for this work.
Click the buttons below to read the case study or talk to us today about how we can assist
Meet the leaders with the Oleeo advantage
Our resources library includes a selection of customer stories where Oleeo has helped to transform talent acquisition.
Tell me Everything!
Oleeo would be delighted to hear about your talent acquisition needs to see if we can help you. Get in touch today!
Copyright ©2021, Oleeo Ltd All rights reserved.
Copyright ©2022, Oleeo Ltd All rights reserved.